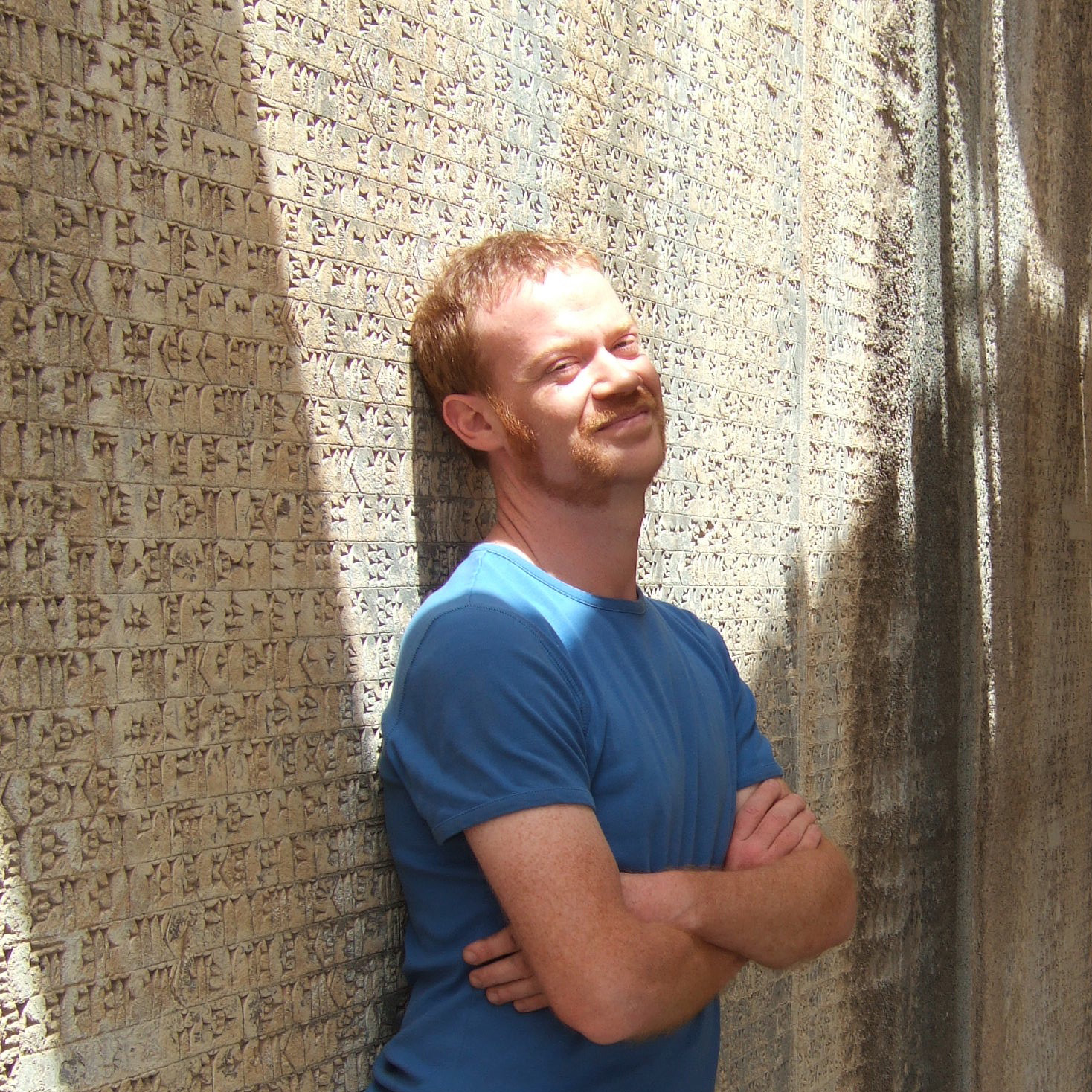 Professor Wouter Henkelman
Wouter Henkelman is associate professor at the École Pratique des Hautes Études (Paris), where he is responsible for Elamite and Achaemenid studies. His research interests include Elam and the Elamite language as well as the Achaemenid world in widest sense.
Henkelman studied classical philology (specialisation: ancient Greek) in Leiden and ancient history (specialisation: Achaemenid languages and culture) in Utrecht. He obtained his doctoral degree (cum laude) in 2006 at Leiden University with a dissertation entitled The Other Gods Who Are: Studies in Elamite-Iranian Acculturation Based on the Persepolis Fortification Texts, which was subsequently published by the NINO in the Achaemenid History series (vol. 14; 2008).
Following his doctoral research in Leiden, Henkelman held several post-doctoral positions, first at the Collège de France (Paris), followed by VU University Amsterdam. In both cases his research focused on the Elamite clay tablets from the Persepolis Fortification Archive. Since 2006 Henkelman is fomally charged by the Oriental Institute at the University of Chicago with the publication of some 3000 of these tablets. In 2012, the same research led to his election as Alexander von Humboldt advanced research fellow at Deutsches Archäologisches Institut, Berlin.
Prior and and parallel to his Paris teaching appointment, Henkelman taught at the ancient history department of Utrecht University (1995-2000) and the ancient studies department of VU University (2002-2011) and held a guest professorship at the Leopold-Franzens Universität of Innsbruck (2010). In addition, he has taught seminars and summerschools on the Elamite language, the Fortification archive and the Achaemenid empire at Istanbul (NIT), Oxford (Corpus Christi and Wolfson College), Leiden, Münster, and Naples. Since 2013, he annually offers three intensive classes in Tehran, at the Institute for the Great Encyclopaedia of Islam.
Henkelman has initiated and coordinates the international Bīsotūn project, aimed at a new, synoptic edition of the inscriptions and relief of Darius the Great at the rock of Bīsotūn (Kermanšāh, Iran). The volume is to be published by the NINO in the Achaemenid History series, of which Henkelman is the acting series editor.
Dr.Matthew W. Stolper
Matthew W. Stolper (Professor of Assyriology, John A. Wilson Professor of Oriental Studies in the Oriental Institute) has worked primarily on Achaemenid Babylonian texts and secondarily on Elamite history and texts. His work on Babylonia when it was a province of the Achaemenid Persian empire mostly treats legal and administrative texts as evidence of social, economic and political history c. 450-300 B.C., the time between the consolidation of Achaemenid control and the consolidation of Seleucid control. His work on Elam and Elamite includes a survey of Elamite political history (out of print), a sketch of Elamite grammar, and publication of Proto-Elamite and Elamite texts from ancient Anshan. His main effort now is on Achaemenid Elamite and Achaemenid Aramaic administrative excavated by the Oriental Institute in 1933 at Persepolis, the imperial residence in the Persian homeland to be published in electronic and conventional forms. Stolper's courses have dealt mostly with Akkadian historical and legal texts of the late first millennium, with forays into Old Persian and Elamite language and Achaemenid history. He serves on the editorial boards of the Chicago Assyrian Dictionary, the Journal of Cuneiform Studies, and ARTA.
Dr. Jenny Rose
Jenny Rose is a historian of religions, who teaches Zoroastrian Studies at the Department of Religion, Claremont Graduate University. She holds a doctorate in Ancient Iranian Studies from Columbia University, and her dissertation was published in book form as The Image of Zoroaster: The Persian Mage Through European Eyes (Bibliotheca Persica Press, 2000).
In 2011 Jenny published Zoroastrianism: An Introduction (I.B. Tauris), and Zoroastrianism: A Guide for the Perplexed, (Continuum), both of which have been favorably reviewed in the US and abroad.
Jenny lectures extensively at other academic institutions, museums, and Zoroastrian Association events throughout North America and Europe. She also leads study-tours of some of the most important archaeological, cultural and devotional sites in Iran and Central Asia.
Prof. Mark Garrison
The 2016 Kamran Seminar will feature Professor Mark Garrison, Professor in the Department of Art and Art History at Trinity University in San Antonio, Texas who will deliver the featured lecture: "The Zoroastrian Question: Religions and Religious Imagery at Persepolis in the Reign of Darius the Great."